Sarah Lewis, Director at bere:architects has been named as one of the top 20 women who are leading the way in sustainable architecture in the first annual Architect's Journal Footprint list curated by Hattie Hartman and AJ technical reporter, Laura Mark and announced yesterday.
Sarah joined bere:architects in 2008 after being introduced through a shared interest in Passivhaus work. In 2010 Sarah qualified as a Certified European Passivhaus Designer after the successful completion of The Camden Passivhaus, London's first Passivhaus of which she was the project architect. Sarah has been a director of bere:architects since 2011 and has regularly lectured and been a guest critic at a number of architecture schools and spoken at Conferences including the International Passivhaus Conference in Innsbruck, 2011. Sarah is also this year working with the RIBA on writing a book about The Passive House Planning Package (PHPP).
Hattie says that the determining word is "influence", these individuals all being change-makers, actively engaged with promoting the uptake of green skills throughout the profession: speaking at conferences, writing books and, most importantly, teaching the next generation. These skills cannot be acquired overnight: they demand not only a new way of working but also detailed technical knowledge.
Top 20 Women in Sustainable Architecture:
Sarah Wigglesworth, director, Sarah Wigglesworth Architects
Sue Riddlestone, co-founder, Bioregional
Sue Roaf, professor, Heriot-Watt University
Sofie Pelsmakers, doctoral researcher, UCL
Cany Ash, founding partner, Ash Sakula
Lynne Sullivan, founding partner, SustainableBYdesign
Sarah Cary, sustainable developments executive, British Land
Kirsten Henson, founding consultant, KLH Sustainability
Sarah Lewis, director, bere:architects
Fran Bradshaw, partner, Anne Thorne Architects
Trish Andrews, course leader, Centre for Alternative Technology
Marion Baeli, associate, Paul Davis and Partners
Fionn Stevenson, professor, Sheffield School of Architecture
Anna Surgenor, senior technical advisor, UK-GBC
Blanche Cameron, founding director, RESET Development
Joana Carla Soares Gonçalves, lecturer, Architectural Association
Sian Moxon, associate, Jestico + Whiles
Judit Kimpian, director, Aedas
Elena Marco, associate head, University of West of England
Ann Bodkin, consultant and architect
Sustainability in Practice article: Windows by Sarah Lewis & Marion Baeli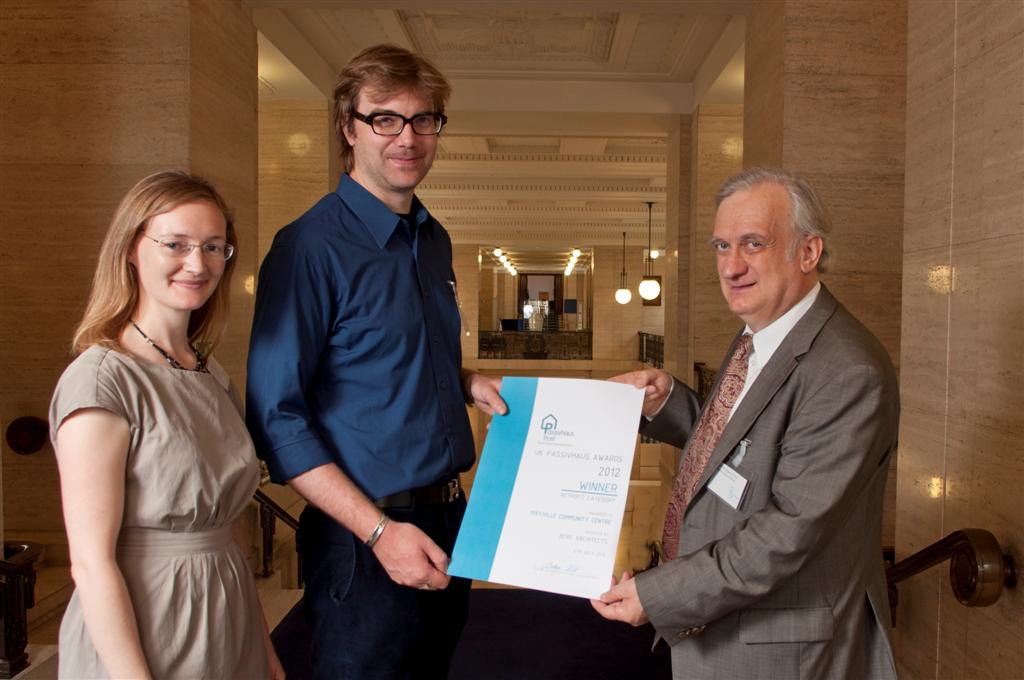 Sarah Lewis and Christian Senkpiel of bere:architects, accepting the award for Mayville Community Centre in Best Public Building category of the UK Passivhaus Awards 2012 from Wolfgang Feist
Read the article here