This study compares the comfort conditions in November 2012 inside the unheated Passive House Mayville Community Centre, with conditions in two heated, un-insulated post war flats on the Mayville Estate.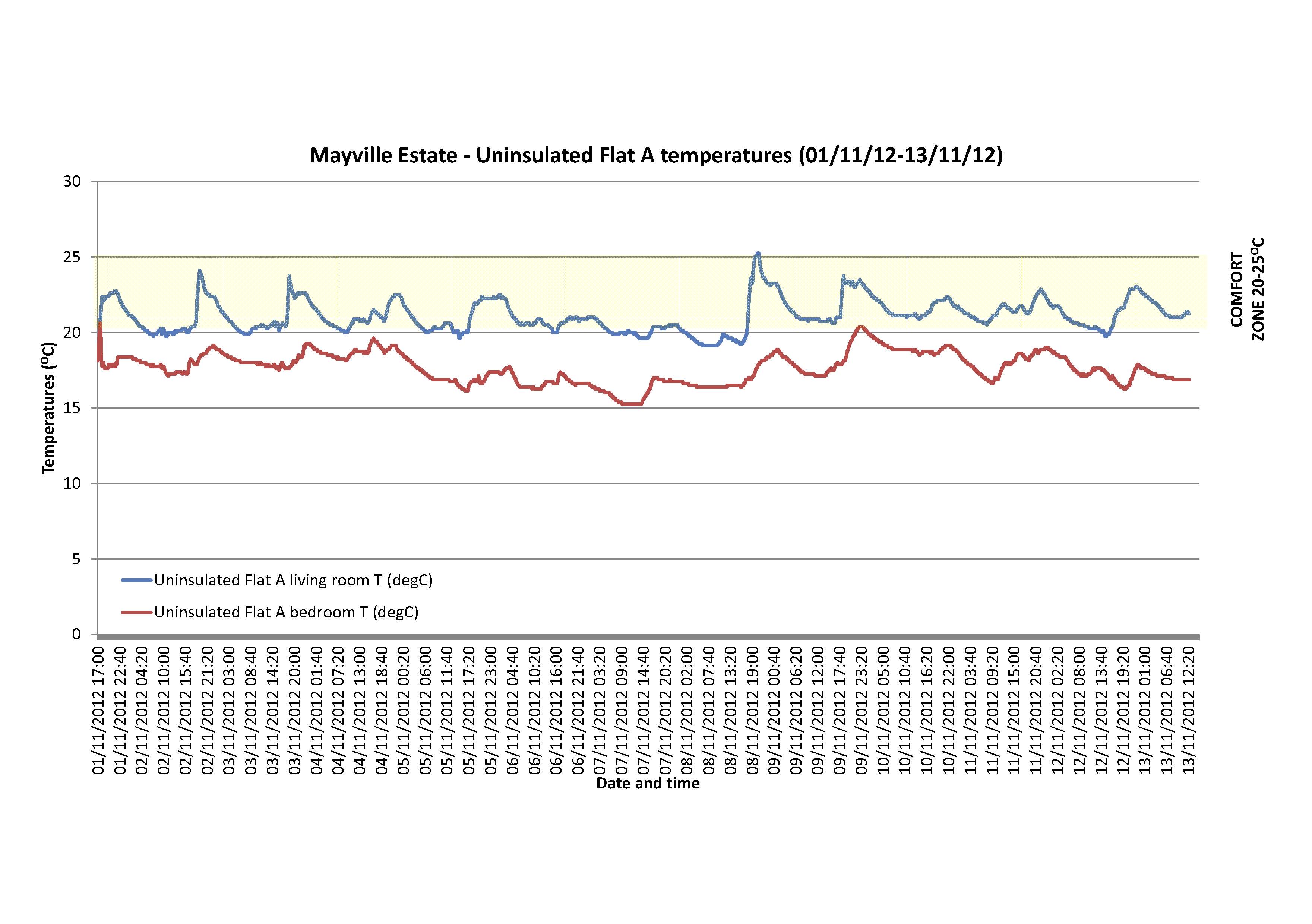 Un-insulated Flat A had much lower temperatures in the bedroom than the living room; in the band 15-20 degrees C. The flat was being heated, and the occupant told us that the bedroom walls and windows had running condensation. Such conditions are considered likely to cause asthma. The living room was heated up to 22 degrees each evening and the thermostat then set back to 20 degrees. The bedroom quickly lost temperature during the night to the set-point of 20 degrees.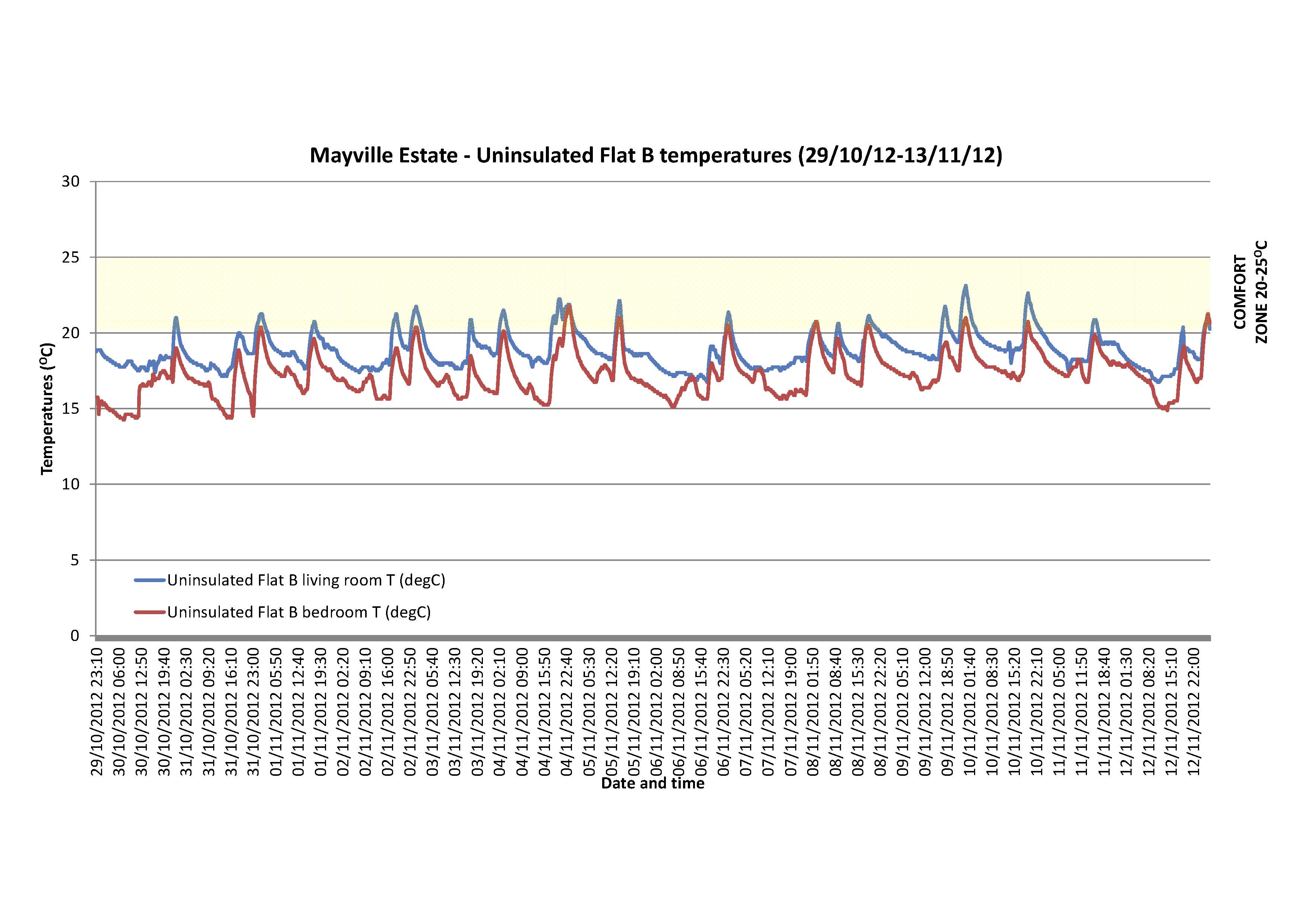 Un-insulated Flat B is occupied by a mother with children. The living and bedroom temperatures were mostly in the band between 15-20 degrees C. The flat was heated to around 20 degrees and then the heating switched off altogether. Temperatures dropped quickly after each heating period and the occupants reported severe condensation on walls and windows. Such conditions are considered likely to cause asthma.
By contrast, over the same period the Passive House Mayville double height main hall was not heated at all. It's temperatures remained in the middle of the 20-25 degree band, typically fluctuating by only 1 degree in 24 hours (in response to external temperatures fluctuating between 5 and 10 degrees in 24 hrs), apart from a few occasions where doors were left open for a short period.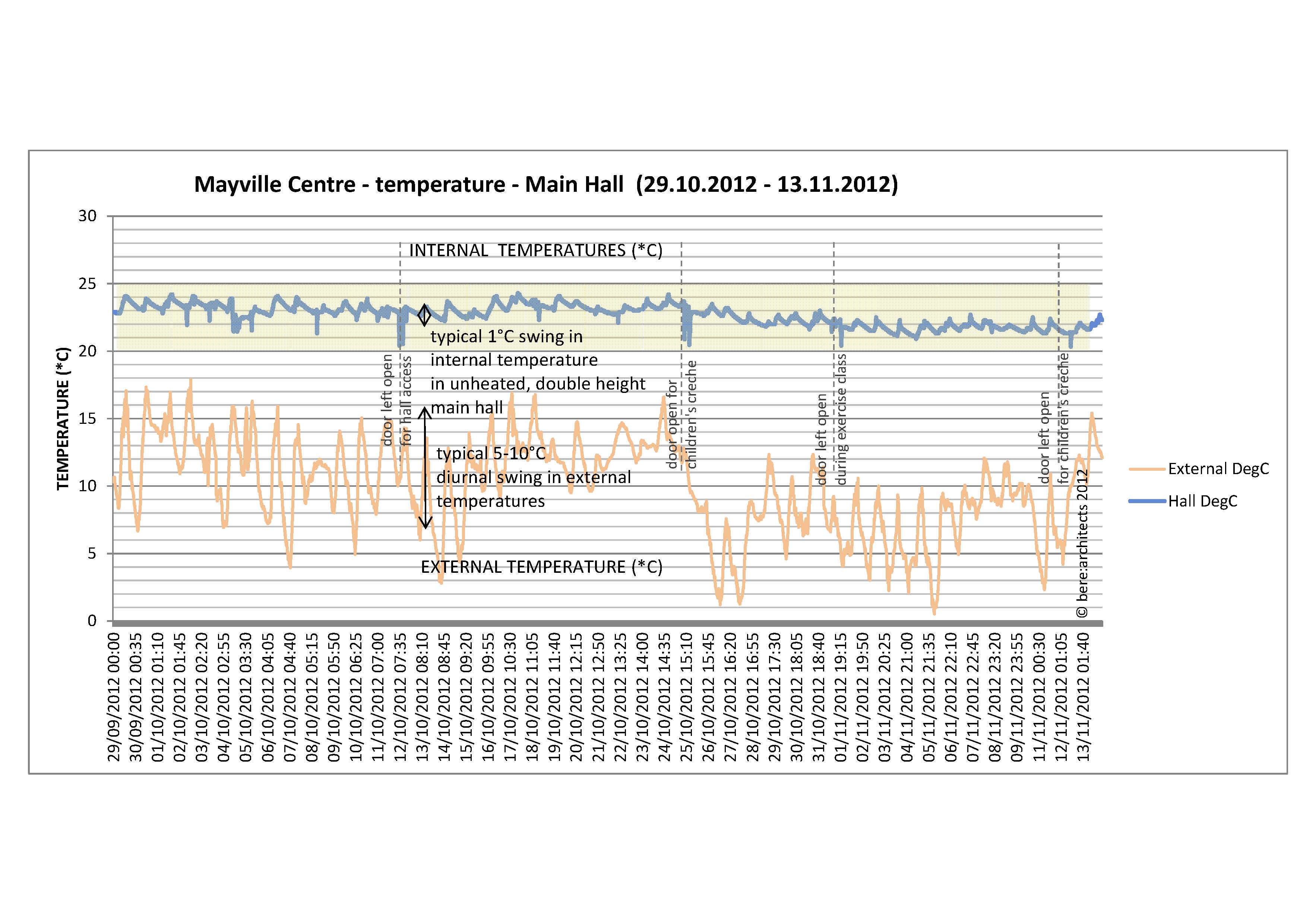 In conclusion, even in November residents said they were having difficulty affording the expense of heating their standard post war flats on the Mayville estate to temperatures between 15 and 20 degrees. By contrast, the completely unheated Passive House Mayville Centre, even in its main double-height volume, was effortlessly maintaining much higher temperatures of 22-24 degrees and optimum humidity conditions completely free of any condensation whatsoever.
We also have interesting data being processed in response to recent concern in the press about a Glasgow University research paper about increased humidity in some houses in the UK due to drying clothes in air-tight buildings. Basically we have proof that there is no risk of excess moisture even when drying clothes in a passive house.